Topical CBD Cream: 8 Reasons Fringe Lotion is the Solution
Abby Kramer, DC
The hemp plant has a long history of being applied to the skin. Ancient texts describe mixing hemp plant flowers with honey. This mixture was applied to wounds and directly onto the skin. This combination was used to treat conditions including bruising and pain.
Topical CBD has been approved in various US states to treat conditions including severe pain, psoriasis, lupus, and nail-patella syndrome. 
CBD easily passes through the skin, with up to 10x greater skin permeation, supporting the topical application as a therapeutic modality.  Pair topical CBD cream with water-soluble broad spectrum CBD powder to address your entire endocannabinoid system. Fringe Mysa CBD lotion includes lavender, lemon, and yuzu essential oils in its ingredient list to aid in the calming and soothing benefits these oils provide. 
What is the difference between Topical CBD Products and Ingestible CBD Products?
Do topical and ingestible CBD products help the same things?
Topical CBD products are applied directly to the skin, with some absorption into the tissues below and minimal absorption into the bloodstream (if any).  This is the main difference between topical CBD and orally ingested CBD products, which are absorbed into the body and distributed in the circulation. Fringe Mysa is completely THC free. Track CBD brands and the ingredients used in each product by following the QR code on the packaging.
Topical CBD products are a great solution for localized pain, inflammation or skin irritations. 
Ingestible CBD products are best to help with system inflammation, sleep disturbances, pain in multiple areas of the body, neuropathic pain, and mental health.
If using CBD to help multiple conditions, combining topical and orally ingested CBD could provide greater benefit than using a single product.
Is CBD Effective Topically?
CBD products, when applied to the skin, interact with our body's endocannabinoid system (ECS), specifically the dermatological or cutaneous endocannabinoid system. The cutaneous ECS is associated with many bodily functions, including pain sensation, inflammation, cell proliferation, and oil production. Abnormal functioning of our cutaneous Endocannabinoid System has been linked to common skin disorders. These disorders include atopic dermatitis, fibrotic disorders, psoriasis, as well as to the sensation of pain. The ECS plays an integral role in our health and wellness.
What is topical CBD cream used for?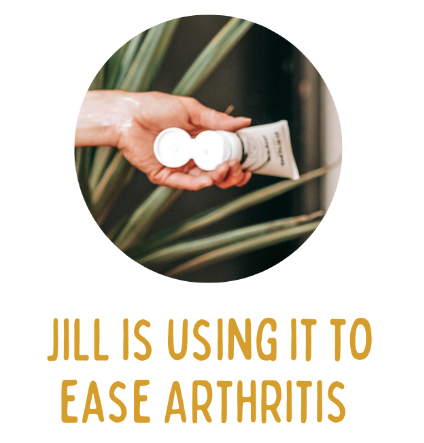 1) Arthritis
With approximately 58.5 million Americans suffering from arthritis, the condition is a leading cause of work disability in the USA. An additional 1.3 million Americans have rheumatoid arthritis. When people with arthritis applied to the skin over a joint, topical CBD cream for arthritis has been found to decrease arthritis-associated inflammation and pain. In another animal study, mere days of transdermal CBD applications resulted in decreased joint swelling, pain, and markers of inflammation. Inflammation and arthritis has been tested and published by the National Library of Medicine.
"Thank you for making Fringe Mysa CBD cream. I am simply blown away by all the things this CBD cream can help with. I initially used it for pain in my hands and knees from arthritis. It only takes a few minutes to take effect and it is so soothing." Jill S. – May 8, 2022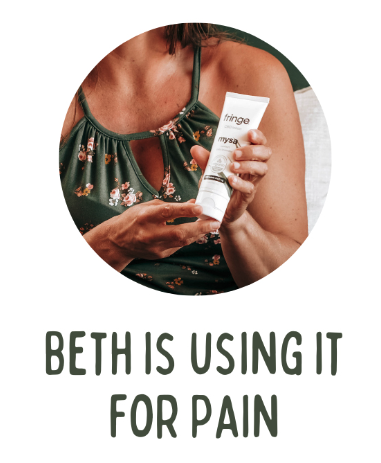 2) Pain
Palliative care patients suffer from serious illnesses, such as heart failure, chronic lung disease, kidney disease, liver failure, and neurological conditions. Topical CBD has been found to reduce chronic pain in these patients.
"I recently hurt my back and was recommended Fringe Mysa CBD lotion to apply topically over the painful area. To my surprise, it helped lower my pain levels within a short amount of time." Beth – May 3, 2022
Jeni Enwright – May 19, 2022
This is like a miracle lotion for me! I've used various CBD lotions and did not experience any relief from my neck/back pain. With much skepticism, I tried Mysa and felt instantaneous relief! I was so surprised and thrilled. Trust me, this is like nothing I've tried previously….IT WORKS….and you only need a small amount! Thank you so much for creating a safe product that works INSTANTLY! LOVE LOVE LOVE it!! Jeni  – May 19, 2022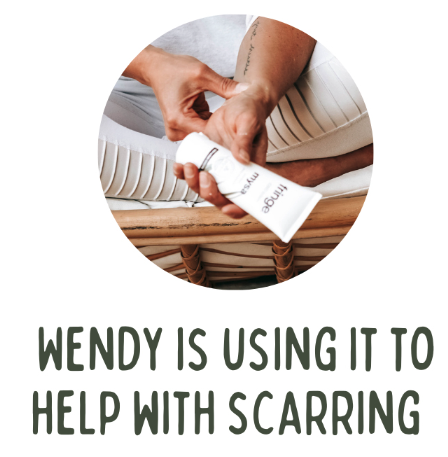 3) Scars
CBD has shown to be beneficial in the treatment of many dermatological conditions in research with humans, animals, and human skin cells. Other improvements included reduced skin blemishes, scars, papules, pustules, and psoriasis. Another small study of three pediatric patients with epidermolysis bullosa found that topical CBD reduced pain and blistering and improved wound healing. 
"Are there more than five stars? When this product first came out, I had just had surgery on my face three layers of stitches down to the bone. A surgeon told me that I would have a massive scar. The only treatment that I used was Fringe Mysa CBD lotion with fascial blading. I have no scar!" Wendy  – May 2, 2022
This lotion is magical. I am 3 months out from a total hip replacement and occasionally my hip gets restless, achey, and twitchy at night. I keep my Mysa on the nightstand next to me because all I have to do is put the smallest amount on the spot that is acting up and within 1 minute I am back to sleep.
I also use Mysa on my scar and I am so thrilled with how fast it's healing and how soft and pliable it is. Lori  – May 23, 2022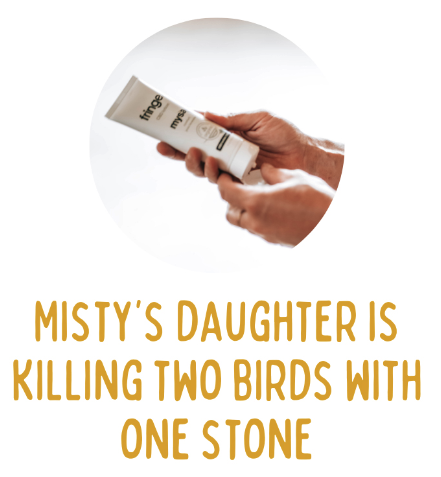 4) Acne
Research with human skin cells shows CBD reduces inflammation and aides wound injury. CBD regulates oil production from our skin and reduces inflammation, suggesting it as a possible application in the treatment of acne. 
"I have been a practicing LMT for 12 years and have tried everything under the sun for aches and pains. Out of all the topicals I have tried in my career Mysa is the only one that has consistently delivered results. Especially applying it to the face really helps with pain and inflammation from daily allergies and overall tension. You'd never guess just how much stress you hold on your face. Try it for a week and let the mirror be the judge." Michael  – May 4, 2022
"I know most people may think Mysa CBD lotion is only for arthritis pain however my review is here to share it has also been a miracle for my teenage daughter. She applies it after washing her face at night and helped clear acne! She noticed Mysa also calms her late-night anxiety and allows her to fall asleep soon after washing her face." Misty – May 7, 2022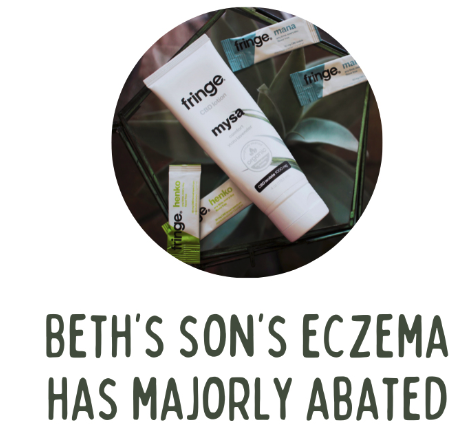 5) Eczema
"I have also started using Fringe Mysa CBD cream for my skin, I get dry skin or eczema patches and this CBD cream has magically made them disappear. As much as I love all the help I get with this CBD cream, I am obsessed with the smell. THANK YOU!" Jill S. – May 8, 2022
"I used this lotion for my teenage sun's eczema and I saw a major difference within a week. So, if you have local pain, arthritis, or skin irritation give this CBD cream a try. It smells amazing too and has a better price point compared to others out there without compromising quality." Beth – May 3, 2022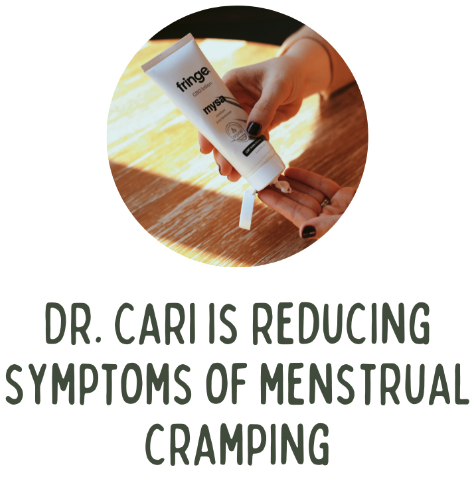 6) Menstrual Cramps
Lower abdominal pain, back pain, headaches, and nausea are common side effects of menstrual cramps. Can CBD help alleviate the discomfort felt during the menstrual cycle? Yes, CBD works with your body's endocannabinoid system to provide pain-relieving, anti-inflammatory responses.
"This CBD cream is everything when it comes to reducing pain, tension, and soreness. It is a saving grace for me with menstrual cramping too. I rub it on my belly, my back, or any place I'm hurting. Within 5 minutes the discomfort is at least 50% less! This CBD pain cream smells amazing and works wonders! Highly recommend." Dr. Cari  – May 7, 2022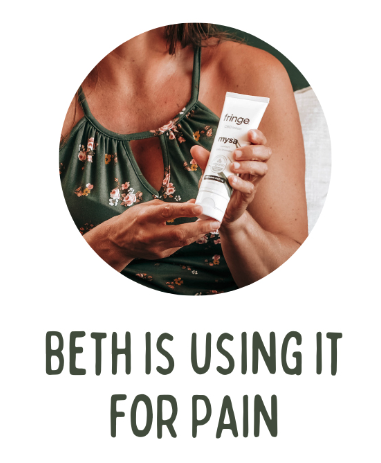 7) Muscle Pain
CBD applied to the skin has been found to reduce symptoms of myofascial (soft tissue) pain in humans. The pain and discomfort from common muscle overuse injuries can cause aching pain throughout the day. CBD applied twice daily for two weeks resulted in reduced pain and muscle activity in patients with myofascial pain. 
"Love, Love, Love. I like to use this before bed or anywhere I may have aches and pains. It's also great for sore muscles post-workout and it smells great too!" Kristina – May 29, 2022
"This lotion has been a game-changer for me! After back surgery and 2 neck surgeries, this lotion has helped my aches and pains. It works so well on tense muscles. Oh and the smell. So good! I highly recommend this product." 
Seleena M – December 1, 2021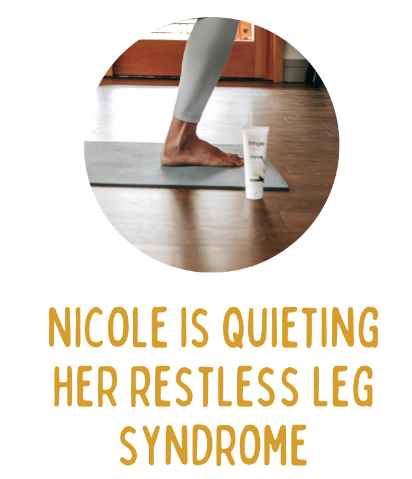 8) Nerve Pain
CBD applied to the skin has been found to reduce symptoms of neurological (nerve) pain in humans. Nerve pain can be dull or sharp, intense, and irritating. CBD cream applied regularly could result in decreased pain levels and irritation for those suffering from nerve pain. Some nerve pain conditions include peripheral neuropathy, restless leg syndrome, and shingles. The National Library of Medicine published a study where the participants experienced pain, anxiety, and depression. Topical CBD is effective on a specific area of the body while CBD water-soluble powder provides relief to the entire Endocannabinoid System.
"CBD cream has been reported to help reduce the symptoms of Restless Leg Syndrome. This lotion has been a total lifesaver for my husband and me with any sore muscles or mild injury to tissue. On occasion, I'll have restless ankles at night and so MYSA lives on my nightstand there when I need to rub it on my ankles. Love this stuff."  Nicole – May 18, 2022
Usage & Dosage
To learn more about topical CBD cream visit the frequently asked questions page. The quality of the CBD product is an important factor to identify if topical CBD is safe to use on children or as a masseuse all day. The difference between topical and transdermal lotions, creams, and salves will give you the insight for this topic.
Summary
CBD can be applied to the skin to help several conditions, including pain, inflammation, and skin disorders.
Topical CBD products are formulated with additional ingredients, which should be carefully evaluated for their benefits and general safety. Overall, while more research on the clinical uses of topical CBD is definitely needed, it shows great potential. Given the extensive endocannabinoid systems within our skin, there is more to learn about the benefits of CBD .
Fringe CBD products are high-quality water-soluble CBD isolate powder and CBD cream that provide solutions for pain relief, stress relief, and better sleep. The human body is over 60% water. Water-soluble CBD powder absorbs into your bloodstream 4x faster than CBD oil.
Disclaimer –
The contents in this blog; such as text, content, graphics are intended for educational purposes only. The Content is not intended to substitute for professional medical advice, diagnosis, or treatment. Always seek the advice of your healthcare provider.

This content is for informational and educational purposes only. It is not intended to provide medical advice or to take the place of medical advice or treatment from a personal physician. All viewers of this content are advised to consult their doctors or qualified health professionals regarding specific health questions or before beginning any nutrition, supplement or lifestyle program. Neither Dr. Abby Kramer, publishers of this content, or Fringe, Inc. takes responsibility for possible health consequences of any person or persons reading or following the information in this educational content. All viewers of this content, especially those taking prescription or over-the-counter medications, should consult their physicians before beginning any nutrition, supplement or lifestyle program.
Dr. Abby's mission is to empower others to feel and function as their most vibrant selves. Through her personal history of medical struggles, she realized that her symptoms were her bodies' way of communicating deep physical, mental, and emotional imbalances. Dr. Abby has been inspired to bring that same type of healing transformation to her patients – becoming one of the foremost voices for progressive, holistic medicine in the Greater Chicago area. Dr. Abby can also be found talking with other thoughtful healthcare leaders on her podcast, "Coffee with the Docs", or spearheading Medical Education and business development for Fringe Inc, a company committed to helping others regain their health through the power of natural medicines. www.fringeheals.com